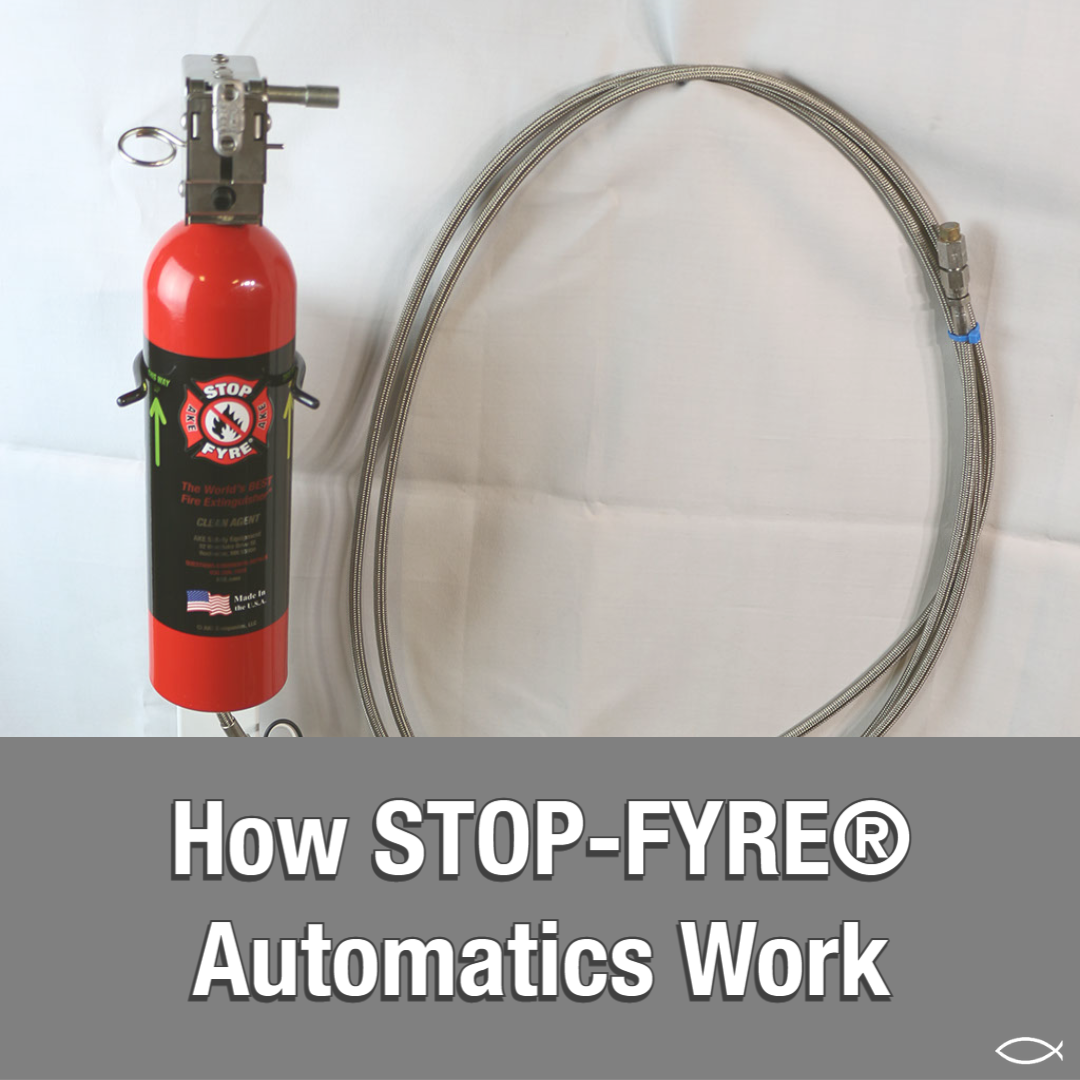 How STOP-FYRE® Automatics work
How STOP-FYRE® Automatics Work
We'll walk through why our Automatics were created, the very basics of how our Automatic Extinguishers work, and how to order an Automatic for your machinery/equipment/etc.
Why Automatic Extinguishers were Created
The early beginnings of AKE Safety Equipment's development saw our owner Allen traveling farm to farm in rural Minnesota asking farmers questions about the fires they experienced on their farms. From these interviews, his years selling fire safety equipment, and his time as a firefighter, he decided that AKE Safety Equipment would really focus in on helping farmers stay safe from fires.
Farms have a lot of unique challenges when it comes to fire safety. In America, the average home will experience a fire large enough to require a fire extinguisher about every 10 years. But, farms are 3x more likely to experience a devastating fire. Why is that?
Well, for one thing, farms have a lot of machinery and that machinery has a lot of wiring that can fray or malfunction. Likewise, that machinery can pick up dust, silage, and plants that can easily become kindling when a machine overheats. 
But, one of the most dangerous aspects about farming that comes into play with fire safety is location. Fire doubles in size every 10 seconds, and the average rural fire department response time can be over 30+ minutes. The math on that is not very promising.
That's why our STOP-FYRE® Automatic Extinguishers were created.
How a Handheld Extinguisher Works
Our Automatic Extinguisher is like the genetically engineered version of a handheld extinguisher. With our STOP-FYRE® handhelds, they work very similarly. To extinguish a fire with our handheld units, you have to remove the pull pin and then pull the trigger to release agent. To most affectively extinguisher fires, aim the extinguisher at the base of the fire and spray the fire in short, targeted bursts. But for those dangerous fires that are obstructed from direct access, our proprietary blend of fire suppression gases can reach fires that are typically not able to be put out with traditional fire extinguishers.
How the Automatic Extinguisher Works
Our Automatic, in many ways, works similarly to our handheld units. It was created with the same, super tough canister built to handle the rough and tough of farm life. Likewise, it holds our same powerful STOP-FYRE® clean agent. But, as its name suggests, our Automatic releases agent automatically. It does not require someone to pull a trigger, though we have manufactured our own manual release pull cables for added security and fire protection.
Key Components of an Automatic Extinguisher
To better understand the STOP-FYRE® Automatic Extinguisher, we'll get right down into the nitty gritty of how it works, starting with its main components. 
Each Automatic has what we call an Automatic Head -- the silver hardware that sits atop the canister. On the front of the Automatic Head is a Fusible Link. The Fusible Link is two pieces of metal that are soldered together with a fusible alloy, that is designed to melt at a pre-set temperature, depending on the application. When the alloy melts, it automatically releases our STOP-FYRE® clean agent, as if the pull pin were removed and the trigger pulled.
We also manufacture Custom Automatics (because your machine might be a different size or have other fire concerns from Joe's machine). We engineer solutions from skid steers to harvesting equipment and everything in between. When it comes to our Cotton Automatic System and many Custom Automatics, we often find that our farmers would like to have more than just the Fusible Link feeling out for fires. So we created Fusible Plugs which extend from the Automatic Body through our stainless steel braided hose. The Fusible Plugs work in the same way that the Fusible Link does. They also melt at your desired temperature to release agent from the body through the hose to the fire -- in exactly the location of the fire itself.
Our Automatic Extinguishers are fast-acting because they can put out a fire before it gets out of control. Our stainless steel braided hoses are fully loaded, so to speak, in that, they are filled with pressurized agent that is ready to be released when the plugs are melted. So, a fire can be extinguished in seconds.
Ordering an Automatic
On our website, you can order our Classic, Premium, and Cotton Automatic Systems with just the click of a button.  
For Custom Automatics, you can get in touch with our Engineering Department at 507-923-0106. We will take your measurements and equipment data to create a custom unit that's right for your needs, based on your machine. You can also call our headquarters at 1-800-586-1639 and we'll get you in touch with a sales representative near you. That rep can drive out to your farm to look over your equipment and help you find the system that's right for you.
Audio Visual Warning System
We can't talk about our Automatics without talking about our AVWS. This warning system was created to flash and alarm whenever an Automatic extinguisher deploys agent. That way, you know that you have a fire the moment it's happening. The benefits of this are twofold. One, you know you're having a fire so you can find the source, assess any damage, allow your machine to cool down, or what have you. But, it also helps you know that you need to get your unit refilled so you can be prepared for future fires.
Custom Applications:
We have designed, engineered, and installed many Automatic Systems (Automatic Extinguisher(s) coupled with the AVWS) for industrial applications such as dust collectors, gin stands, server rooms, and many more -- using cutting edge technology and electronic sensors, computer control, and push button control. Find a rep near you to find out more. 1-800-586-1639.
Uncontrolled fires are terrifying, and you never know when they are going to happen. You can get prepared, though. And, when you're prepared, you won't be helpless when an inevitable fire ignites. Get prepared today.